The Overture Sheer Shades by Graber are the next iteration of the Silhouette window treatments. Two layers of sheer fabric provide softly curved, elegant horizontal fabric vanes for an enhanced way of controlling light and privacy. Protecting your furniture, flooring, and artwork from damaging UV rays; the supple, lightweight fabric vanes overlap when closed to diffuse the light or block it more completely.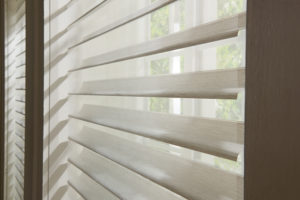 Best of all, these shades are woven as one continuous piece of fabric—there are no seams, stitches, or adhesives to mar the look and feel.
Classically simple in styling, the delicate folds appear to float above the window, allowing light to filter through, the glare is soften during the day providing privacy and UV control or  completely close for privacy. When fully raised, the shades disappear completely into an elegant fabric-wrapped cassette valance. By melding gorgeous fabrics and state-of-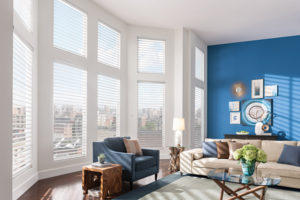 the-art construction with versatile functionality, Overture Sheer Shades give a virtuoso performance.
Our vane sizes offer a variety of views, as well as, an extensive range of fabrics and colours to choose from – transforming an ordinary room into a stylish living space.
Let our experts help
Capturing your own style takes time and effort. It can also take a little help. Let us help you select the best window covering product, colour, and light control for your room and your style.


Click here to book your in-home consultation