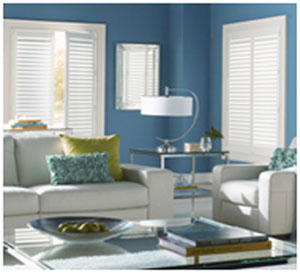 Adding plantation shutters to your surroundings is certain to transform your home and it's so much easier than you could ever imagine. We have a collection shutters made from a hi-tech advanced polymer that's designed never to warp, crack or peel making it the perfect choice for a kitchen, a bathroom or any other room.
With the exclusive DuraLux®Finish the sleek, classic elegance of Polysatin shutters from Shade-O-Matic can turn a window into a stunning focal point in any room. These classic window covering are good-looking and practical as they are allergy-free, child safe and easy to use.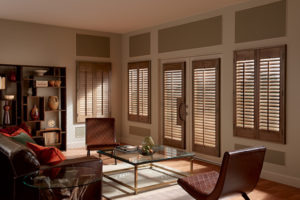 There are a range of options that lets you customize your panels, control bars and openings just the way you want them. As well as, a variety of colours, louver sizes, and frame styles to choose from, the versatility of shutters ensures they will suit any décor.
Perfect for any room especially well-suited for high-humidity areas, they are ideal in kitchens, laundry rooms, and bathrooms. Polysatin shutters are water resistant and will not warp from moisture, crack from heat or discolour from sunlight. They offer the perfect combination of durability, functionality and practicality.
Environmentally Friendly – Polysatin® Shutters carefully consider the environment for healthier living; they are energy efficient and part of our GreenProtect™ program. They are GREENGUARD Indoor Air Quality Certified® and GREENGUARD Children & SchoolsSM Certified and GREENGUARD listed for Microbial Resistance.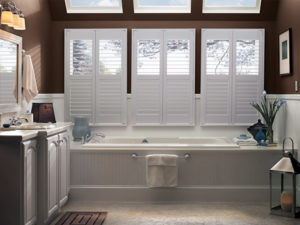 Click here to book your in-home shutter consultation
KEY FEATURES
Industry-leading technology creates the DuraLux® Finish and gives Polysatin shutters a smooth, matte finish.
Solid colour is impregnated throughout the shutter, therefore, no painting or staining is required. Scratches and dents cannot affect the finish or colour.
Made with outdoor grade polysatin compound to ensure UV rays do not discolour the shutters.
Water resistant – makes a great option for bathrooms, solariums, Jacuzzis, or kitchens.
Aluminum reinforcement throughout major stress points adds strength to shutters.
Choose from four classic, neutral colours:  Snow White, White,  Vanilla & Silk
Available in 2 ½", 3 ½" and 4 ½" size louvers.
Available in a variety of specialty shapes: arch, eyebrow arch, extended arch, extended eyebrow and quarter circle.
Fire retardant – NFPA 701 flame retardant certification makes our shutters the ideal option for commercial applications.
Child Safety – The inherent design and functionality of shutters do not use cords, so children and pets stay safe.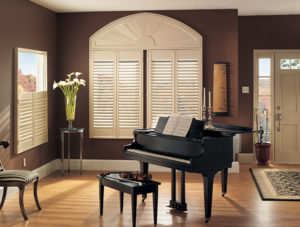 CARE & MAINTENANCE
Only mild soap and water is required to remove many types of stains, making our shutters the perfect solution for high traffic areas.
We're Here to Help
Whatever your project, Langley Decorating Centre has everything you need to create an environment that you'll love. Visit our Langley location or let us bring our expertise to you – together we can define your style in the comfort of your own home