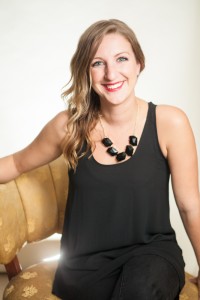 Jaymie Lee is a Benjamin Moore Colour Expert and an interior decorator, specializing in pulling together different materials to harmonize a space. Jaymie works with several local commercial builders, providing complete design strategies for interior and exterior new build projects. She has been involved with her family's Langley Decorating Centre business for 14 years and is a trusted face in the store. Known for her straight talking honesty, painters and home owners alike rely on Jaymie's advice for their projects and she has built her business on happy referrals.
As one of our in-store window coverings experts, Jaymie can provide guidance on the many fabric and style options customized to a client's needs.
Wallpaper is another personal love of hers and if given the chance she would specify a beautiful pattern for every client! If wading through the endless options in wallpaper seems overwhelming, then a cup of coffee and some guidance in the store from Jaymie will have you falling in love too.
Click here to book an in-home consultation.
Jillian Beaudoin is a BCIT trained Interior Designer and a critical member of the team. She brings both residential and commercial design expertise to our client base and her knowledge of technical elements include 3D renderings, floors plans and space planning.
Choosing the right colour is only half the battle when you live in a climate like BC and questions about durability and weather resistance are common. Regular customers in the store are familiar with Jillian's product and application knowledge, which makes choosing the right colour and products easy.
The right colour only comes to life when its lit properly, and Jillian's fresh take on interior palettes is enhanced by her knowledge of lighting design.
Click here to book an in-home consultation.
We're Here To Help
Whatever your project, the Langley Decorating Centre has everything you need to create an environment that you'll love.  Together we can define your style in the comfort of your own home

Click here to book an in-home consultation.