Create a colourful, functional chalkboard in any room with chalkboard paint that's erasable, washable, and durable.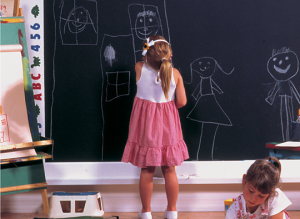 Turn any space in your home into a writing surface with these chalkboard paint ideas. From a reusable, eco-friendly list maker to a drawing surface, wall calendar, or child's activity centre, these creative ways to use chalkboard paint will make your home even more functional.
Step #1: Prepare the Surface
Once you've selected the space for your chalkboard, clean the surface completely and repair any protruding nails or other imperfections. Some surfaces may require a primer or additional preparation:
• If an all-pur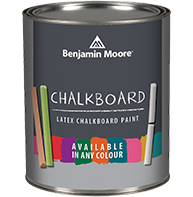 pose primer is needed, we recommend using Fresh Start all-purpose primer
• When applying chalkboard paint over plastic, we recommend priming with Insl-x® STIX® Bonding Primer (SXA 110) for best results.
• Metal surfaces should be cleaned with Super Spec HP Oil & Grease Emulsifier before applying chalkboard paint.
• Shiny metal surfaces should be lightly sanded before the chalkboard paint is applied.
Step #2: Tape Off the Area to Be Painted
Use painter's tape to mark off a space for your chalkboard.
Step #3: Apply the Chalkboard Paint
Using a brush or roller, apply the chalkboard paint within the taped-off area. For best results, use a Benjamin Moore custom-blended nylon/polyester brush or short-nap roller.
Step #4: Ensure Lasting Durability
For best results, allow the painted area to cure for 3 days before using it as a chalkboard. Then, prior to initial use, rub the entire surface with a piece of white chalk.
We are here to help
For more information on chalkboard paint or other interior finish options visit us our Langley store or let us bring our expertise to you. Together we can define your style in the comfort of your own home

 Click here to book an in-home consultation.